15 Jun

Cooking with Billydishes: vegetarian sausage and fennel salad

On the road with your campervan and don't want to think about cooking too much? Carlo and Linda get it – outdoor cooking can be a challenge. That's why the couple created the Billydishes cookbook for vanlifers and outdoor enthusiasts while traveling the Netherlands. Here's their road trip recipe for a vegetarian sausage bun with onion & fennel salad.


The Netherlands might be a small country, but it's absolutely worth discovering by van. Dutch natives Carlo and Linda took their campervan Billy on a road trip through all twelve Dutch provinces all the while sharing unique campsites, practical tips, and tasty dishes prepared with local ingredients on their Instagram.
Billydishes: Crafting local dishes on a camping stove
The result of their journey is the camping cookbook Billydishes, filled with more than 100 easy recipes and itineraries made of three-day camp trips, including campsites, walking trails and cycling routes, meals, and handy grocery shopping lists. The couple encourage the reader to buy and source locally, because it gives you more satisfaction and is also fun to do. Carlo and Linda collected oysters and cockles in the province Zeeland, picked apples in an orchard in Flevoland and bought meat at the camping farm in Limburg.
What's more, the recipes in Billydishes are crafted in such a way that you can make everything from your cool box or mini fridge on one or two burners. To make it even easier for RV travellers, the couple prepared a grocery shopping list for a three-day camp trip for each province. The recipes are composed in such a way that the ingredients are used as effectively as possible with as little food as possible wasted.

The dishes in Carlo and Linda's cookbook look exceptionally tasty indeed, with all of their food photos shot at different campsites. For Dutch speakers, Billydishes camping cookbook is available through online sale. For English speakers, the vanlife couple gave the Campanyon community the English exclusive to have a taste themselves.
Vegetarian sausage bun with onion & fennel salad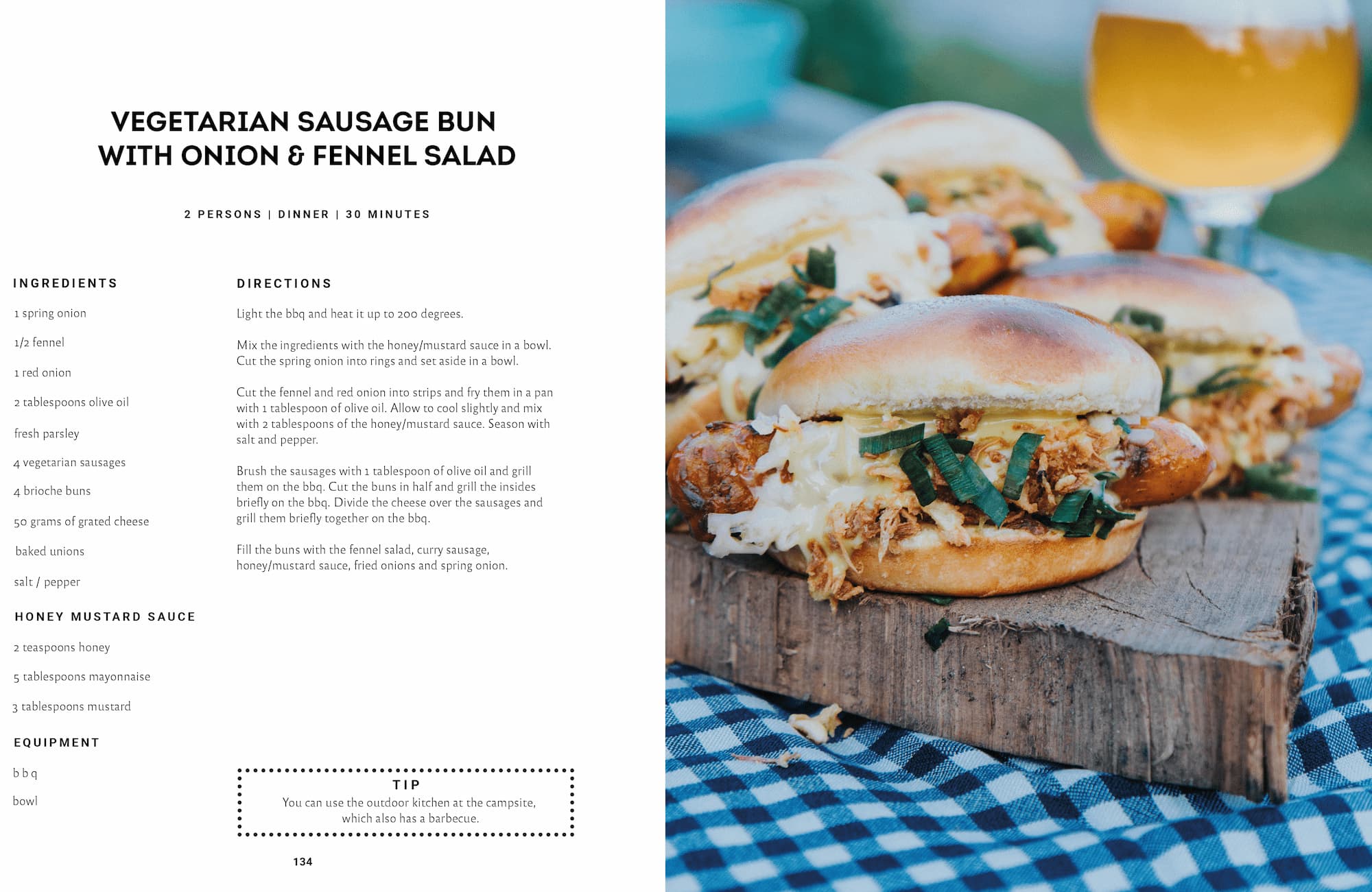 Ingredients
1 spring onion
1/2 fennel
1 red onion
2 tbs olive oil
fresh parsley
4 vegetarian sausages
4 brioche buns
50 grams of grated cheese
grilled onions
salt / pepper
Honey mustard sauce
2 ts honey
5 tbs mayonnaise
3 tbs mustard
Equipment
Directions
Light the grill and heat it up to about 200 degrees celsius.
Mix the ingredients with the honey mustard sauce in a bowl. Cut the spring onion rings and set aside.
Cut the fennel and red onion into thin strips and fry them in a pan with 1 tbs olive oil. Allow to cool slightly and mix with 2 tbs of the honey mustard sauce. Season with salt and pepper.
Brush the sausages with 1 tbs olive oil and grill them over high heat. Cut the buns in half and briefly grill the insides. Divide the cheese over the sausages and briefly grill them together.
Fill the buns with the fennel salad, sausages, honey mustard sauce, grilled onions and spring onion.
Outdoor recipe translated from the Billydishes cookbook
other outdoor recipes
Want to taste more tasty recipes from outdoor experts? Try the fire-grilled langoustines from our Danish glampsite hosts. Chef Andy has included tips on how to buy them freshest!